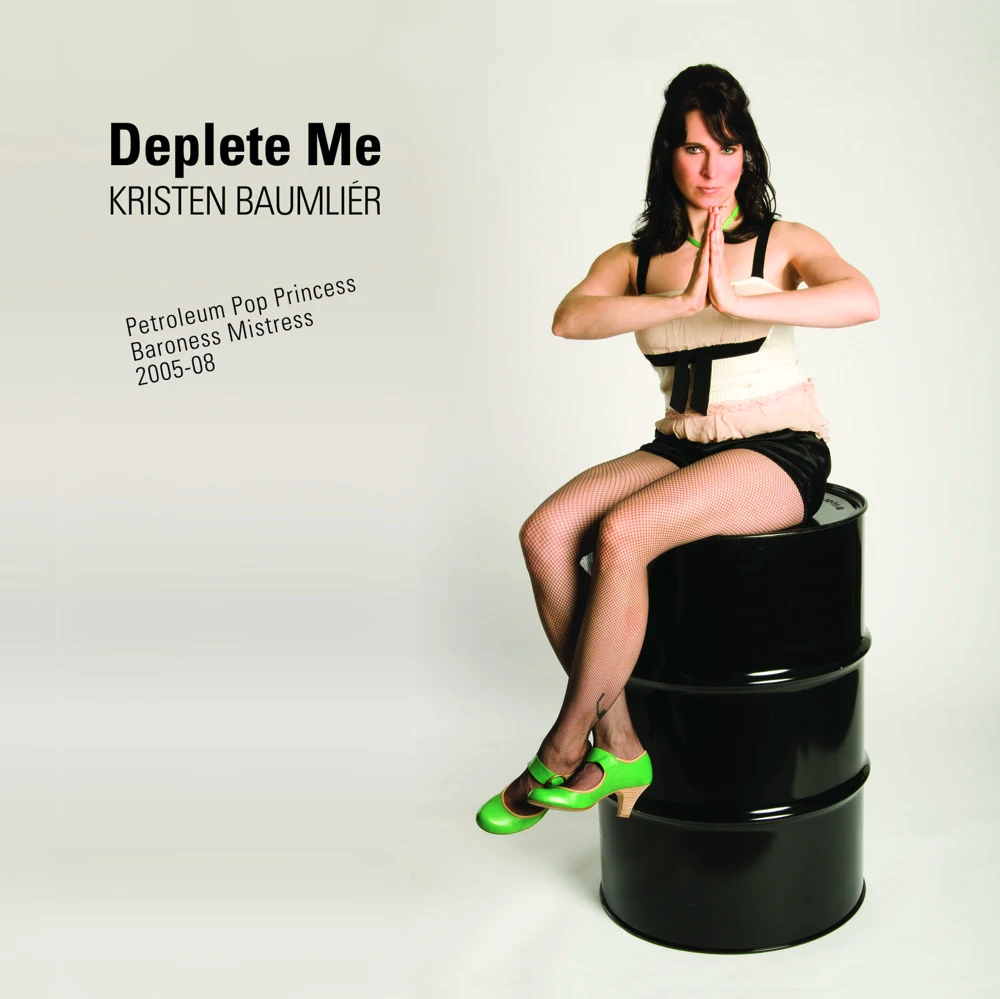 Listen the the album on Spotify or Apple Music
2010
Audio – Music Album
Deplete Me, a new music album written and recorded by the Petroleum Pop Princess Baroness Mistress, Kristen Baumliér, was released on July 4, 2010, and features 9 songs that focus on the past, present and future of energy. Baumliér currently lives in Cleveland, OH, in Cuyahoga County, which is currently ranked fourth among the U.S. counties with the highest concentration of carbon dioxide pollution.
Deplete Me is comprised of 9 original songs written and performed by Kristen Baumliér and explores topics such as our dependence on petroleum, oil history, energy supply and demand, and global warming. The songs are humorous, with sexual innuendos about petroleum and catchy phrases sprinkled throughout the songs. In Conservation, Baumliér sings, "Conservation!! It's gotta hurt a little bit, but I learn to like it." In Deplete Me she sings in a sultry voice, " I want to take a sip, petroleum unzip. The tank is full tonight, my shoes untied."
Check out the Petroleum Pop Princess website- www.petroleumpopprincess.com
Buy the album and other items at the Official Petroleum Pop Princess store or to Itunes.
The album features 9 songs from the Petroleum Pop Princess Baroness Mistress recorded from 2005-08.
Songs:
1. Deplete Me
2. Glad to Meet Ya
3.. Conservation!!
4. Transport Me
5. Now is the Future – The Future is Now
6. Sea Plants and Animals Die and Sink Man (Or How Oil is Made)
7. Oil Embargo
8. It's My Oil
9. Going Fast – Gonna Last
Executive Producer – Kristen Baumlier
Vocals Kristen Baumlier
Vocals, Guitar, Keyboard Kristen Baumlier
Keyboard and other instrumentation Adam Boose
Bass guitar on Track 6 Josh Housh
Vocals on Track 9 Amanda Almon and Ian Charnus
All songs written by Kristen Baumlier
Tracks recorded by Kristen Baumlier
Mixed and mastered by Adam Boose at Cauliflower Studio
Photos by Sarah Balch