Get Rid of the Fear – Your Creative Elusive Genius
I recently watched a TED Talk by Elizabeth Gilbert, who talks about the impossible things we expect from artists and geniuses.  She is the author of Eat, Pray, Love – and shares about how how unrealistic it is that everyone expects someone who is creative and has had success – to basically fail or break down in the next endeavor.
She shares an interesting idea that, instead of the rare person "being" a genius, all of us "have" a genius.
I am currently in the process of moving the Food Font project into a different direction, and am also starting a new project.  I often will have moments of panic – when I think about my "audience"  for Food Font.  What will they think if I move to partner Food Font with a tool instead of finishing building one? What if I do not do any more Food Font events?
With my new project, I think about – what will I do with this new work, and why would I return back to making objects?
This talk helped give me some courage, and I quietly and steadily continue with my work.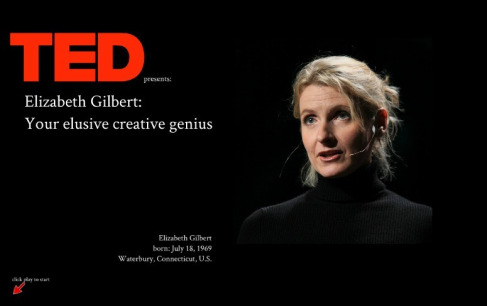 Links:
https://www.youtube.com/watch?v=86x-u-tz0MA