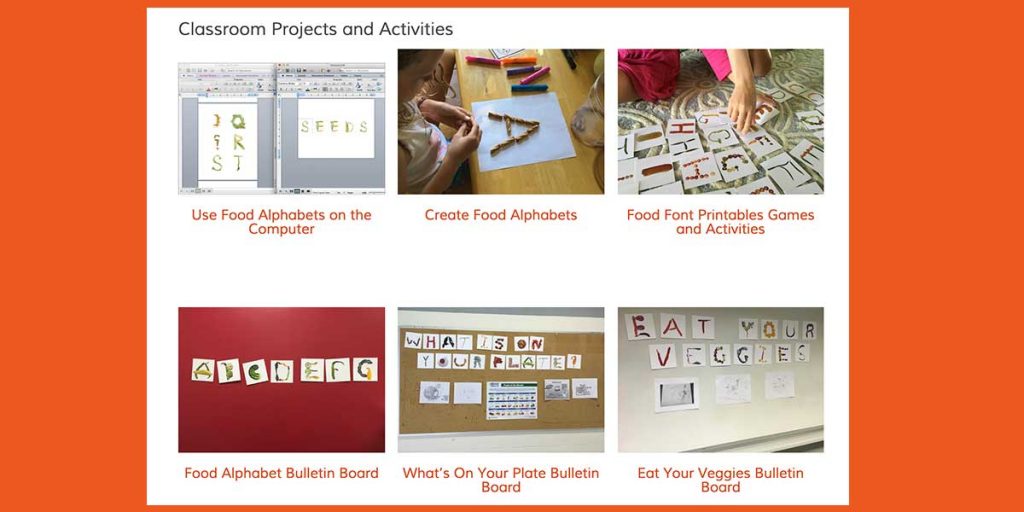 My TinySplash BigView blog and newsletter focused on finding interesting articles and posts to share that focused on food, sustainability, creativity, and social justice.  Over the two years I did the blog, these topics were discussed and featured increasingly in the media and online, and at a faster pace.  It made sense to move to social media, and I still spend quite a lot of time posting and sharing on Twitter.My account is @kbaumlier, and I currently have 1511 followers.
Many people I talk to do not like Twitter (If I had a dollar for every time I heard someone tell me they hate twitter…) but I  enjoy the sharing and engagement with others over topics that we are mutually interested in.  I have learned about some great artists, non-profits, and social justice groups through social media.  Twitter for me is different than Facebook, which focuses more on friends and people I knew/know.
Food Font and Social
For my project Food Font, I started using social media regularly for the first time five years ago using Twitter, Google +, Facebook, and a local food board.  I learned how to tweet, started to use Buffer for scheduling, and tried to some focused social campaigns around the project, especially in Twitter.
I learned a lot, but found that the audience I wanted to reach (teachers, educators) were hard to connect with.
Last Fall I took a class to earn a certificate in Social Media at NC State University.  The class was great and I highly recommend it.
Part of what I learned is that I did not research my audience enough.  For my class project, I focused on how to get teachers to learn about and engage with the project.  We did a 360 review, where you do research on your audience, competitors, alliances, and others like you.  I interviewed my neighbors who are/were elementary teachers, and learned where they get creative ideas for the classroom and for home.One thing I learned is that teachers do not use Twitter for ideas, they use Pinterest!  I also learned that I had to create pages that had more directions, learning objectives, and were a ready to go (not figure it out) format.
As an artist, I had originally thought that if I put it out there – and suggested how to use it, that others would figure out how to creatively use  the alphabets.  What I learned is that most teachers, parents, event planners and others like to have a info sheet or packet.
For the class I developed a strategy and plan, and also expanded my Pinterest presence  for Food Font and myself.
A Last Hurrah
Though I have been developing a new project over this year (Working name is Bliss: Salt, Sugar and Fat), I decided that I wanted to "honor" Food Font and all the work I did over the last 5 years, and work to implement my plan to get the project out and reach the audience of teachers and families.
In the past two months, I created a new Teacher page with actual activity pages.  I did photo shoots of the activities in process.  I developed some bulletin board examples and ideas, set them up and photographed them.  I took pictures of my nieces and nephews using the Food Font alphabets and flashcards.
I created templates of the alphabets with grid lines, making them easier to cut by hand or with a cutting board.  I refer to these as "printables"  sometimes on the site, a term that teachers and parents use for things that you can print.  (I remember Jon once asking me, "What the heck is a printable?" haha)
I'm going to be hiring someone to create new pins with all the images and pictures, and to promote the new  pages.   I'm pretty proud of the Teacher Resources, Parent Resources and Event Resources areas that are on the site. This year 5 new alphabets were created, and they are up on the site.
Though this is not my main project at this time, I don't consider the project over. I wish I would have built this earlier in the heyday of the project – but you only know what you know when you know it.